What makes Barefoot different?
We do several things differently:
We don't just tell clients what they should do, but also how to do it.
We are timely, creative and honest
We do not insist on a retainer for any service
We take limited number of clients and give them our entire focus
We believe in personalized solutions because each brand is unique
What is Barefoot's process or approach towards brand consultancy?
We take the following approach for consultancy, but this is often customized or changed as per the client's needs and objectives:
Stage 1- EXPLORATION
Stage 2 – RESEARCH
Stage 3 – STRATEGY FORMULATION
Stage 4 – BRAND EVOLUTION EXERCISE
Stage 5 – MARKETING CALENDAR
Stage 6 – BRAND CAMPAIGN PLANNING
Stage 7 – CAMPAIGN LAUNCH
Stage 8- CAMPAIGN MONITORING
Stage 9- REVIEW ANALYSIS
Stage 10- PLANNING FOR NEXT YEAR
What all can you design for brands?
We do end to end design work for clients. Starting from logo, stationery to hoardings, press, brochures, PPTs, videos, social media posts, website design, app design, office graphics and collaterals. You name and we design it!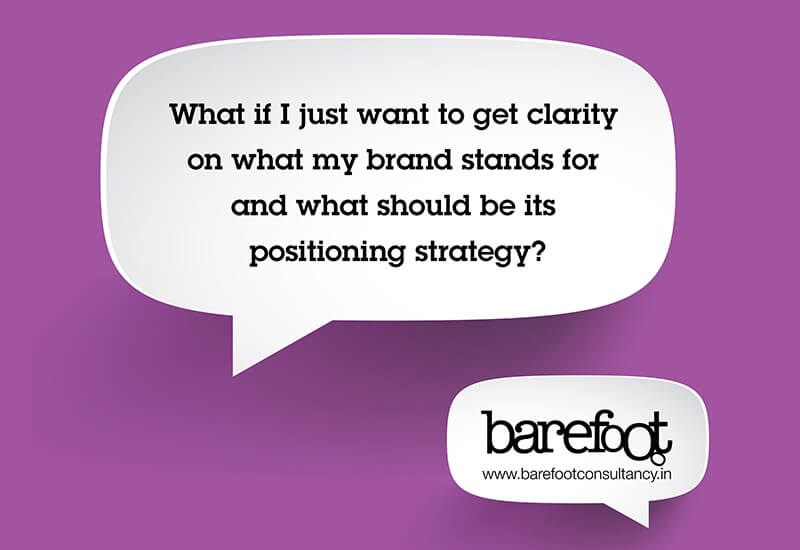 Do you cater to start-ups and small companies?
We are team that would rather make a big difference to a small company than a small difference to a big one. So yes, we love catering to start-ups and being part of the brand evolution journey. Feel free to get in touch with us if you have anything you need help with to bring your entrepreneurship dream to life!
What all industries has Barefoot worked on?
We have worked across industries and catered to over 75 brands. Everything from real estate, FMCG, Education, IT, F&B, Financial services, Hardware to Hospitality. However, we are experts in consumer behaviour, so we can advice any brand in any industry, because we deep dive into their target audience.
What services are within the scope of Barefoot?
 We are an end-to-end brand consultancy firm. We formulate strategy, design campaigns and also do research work for brands. Please see our library of work to get a better understanding of our capabilities.
What services are beyond the scope of Barefoot?
We don't do the following:
Media Buying- offline and online
Printing and logistics
Execution of BTL campaigns
Field work for primary research
Day to day Social media management
Website management and maintenance
We connect you to the right partners for the above services and assist in successful execution of your campaigns!
Do you only work on a monthly retainer?
No, we don't insist on a retainer! – you can choose either of the below options!
Retainer- minimum 6 months
• Flat monthly fee
• A whole range of services and deliverables
• NDA signing for long term strategy

Project- basis the scope
• Per project cost
• Well defined scope and time period
• Short-term or one-off projects
What if I am are not in Bangalore? Can Barefoot still cater to my needs?
Today's world has rendered geography redundant. We work with clients across the country and even abroad. Video conferencing, conference calls, and mails make it very easy to get the work done. However, if there is a need to meet face to face, clients arrange our travel and stay so that we plan the meeting as per their convenience.